News
Fencing Federation of Qatar Prepares for Asian Games 2006
Qatar's team will be participating at the Fencing Tournament in Pusan to try its strength and gain experience.
Noted coach and expert in fencing, Ali Belhaj has been appointed to train the Qatari team. He has launched a multi-faced programme to make fencing popular and attract as much public attention as possible.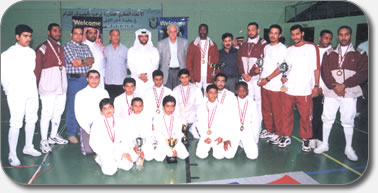 The history and the art of fencing is being projected in an impressive media campaign in clubs and schools, besides organizing local tournaments for various age groups. A time schedule has also been drawn up for participation in overseas tournament with a view to help local fencers gain experience and have a feel of the International competition in fencing.
During the last season of fencing tournaments, the Qatari team participated in several local tournaments and achieved fairly good results.
Explaining the programme, aims and objectives of the Fencing Association of Qatar, Ali Belhaj said, "Fencing is a sport that needs very patient and elaborate training and preparation. We had initially set out with a team of 20 men. In a very short time, as the sport has become popular, the number of people who have joined the Association has gone up to 120. It was a remarkable development, which I, frankly speaking, didn't expect. And the most impressive thing is that young boys from 12 years and above are showing the maximum interest."
The majority of the fencers in Qatar, are amateurs, says Belhaj. They were attracted to fencing after seeing the many exhibition matches and live demonstrations organized by the Qatar Fencing Association at the training centre. He admired the zeal and dedication shown by the young fencers, and their eagerness to learn the skills of fencing.
"We have drawn up a comprehensive plan in consultation with the Board of Directors headed by HE Sheikh Saoud Bin Abdul Rahman Al Thani to ensure optimum level of preparation for the teams to participate in various tournaments," Ali Belhaj.
In this context, the first Qatar Open Tournament in Fencing was successfully held in March this year. This was followed by several local tournaments for the Association Cup in different age groups. A tournament was also organized by the Ministry of Education in April this year.
Referring to the preparations for the Pusan tournament, Ali Belhaj said that intensive training is going on daily and the Association Board has agreed to the setting up of a training camp in Tunisia in which countries advanced in the art and sport of fencing like Germany, Italy and Austria will be participating.
Before proceeding to Tunisia, the Qatari team will have a friendly tournament with fencers from Kuwait and Saudi Arabia, in Doha. The Qatari team will participate in the International Fencing Tournament to be held in Portugal.
"We are doing our best to learn from the expertise of countries which have achieved good records in this sport, and we are confident that we will make it to the Asian Games in 2006 and win the medal. Prior to this, we will also be participating in the West Asian Games to be held in Doha, Qatar in 2005" said Ali Belhaj.
"We have two very promising fencers who may succeed in fulfilling our ambition, provided that they undergo adequate training abroad and participate in overseas tournaments," he added.