News
Doha to Host The World Fencing Cup
A new accomplishment is witnessed at the Middle East sport capital of Doha. In January 2004, the Qatar Fencing Association will namely host the World Fencing Cup (Epee).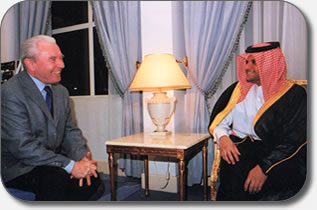 Mr. Rene Roch, President of the International Fencing Federation (FIE), received the proposal to organise the event during a visit to Doha he made in January 2002. The FIE President expressed his trust in Qatar and in the QNOC officials, and put the proposal on the agenda of the FIE meeting held in Portugal, last August. In the presence of the QFA President, the General Assembly unanimously voted for the proposal to host the World Fencing Cup in Epee in Doha and agreed with the scheduled event dates from 10th - 11th, January, 2004.
Mr. Rene Roch, FIE President and the FIE Executive Board members gave full support to Qatar to organise the World Fencing Cup (epee). The FIE is happy to see that Qatar has the qualified manpower, the financial abilities and a wide experience required to make the event a major success. Mr. Roch congratulated the QFA for an excellent bidding file and was happy to see that such event would boost the development of fencing in the Gulf region and in Asia.
This the first time that the World Fencing Cup (epee) will take place in the Middle East, further more, only 10 related events are organised yearly.
Preparations to organise the event started already with the formation of a tournament organising committee as well as the development of a logo and posters. The QFA intends to promote this event world-wide through the international participation of its national team. The QFA wants to ensure a wide participation from as many as possible countries in the world. An invitation will be sent shortly to the Fencing fraternity.
H.E. Sheikh Saoud Bin Abdulrahman Al-Thani, President of QFA announced that although organising this tournament is a hard work, he is fully confident that it will be successful, and it will give a big push for fencing in Qatar and in the GCC countries. It will above all be a great opportunity to gain the experience needed for the Fencing events at the 2006 Asian Games.